Harmonie-Rose Allen contracted Meningitis B when she was only 10 months old.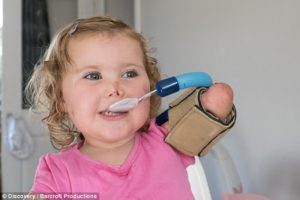 Doctors told her parents that their daughter had a 10 per cent chance of survival, and that the little girl's case was one of the worst they had ever seen. The damage to her tissue was so severe she had her legs and arms amputated.
Wearing her set of prosthetic legs, Harmonie has begun her first walking lessons at the Bristol City of Enablement and is making progress.
Ms Hall, Harmonie's mother, said: She just gets on with everything, she's got such a character, she's feisty, cheeky, she's just amazing. She doesn't give up, she doesn't get frustrated.'
Read the full story here