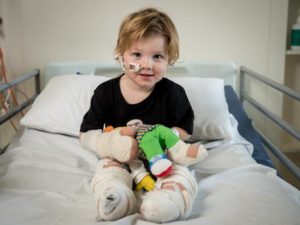 Arthur Long, now three years old was struck down by meningococcal W in late February last year. He lost two fingers off his right hand, both feet and spleen.
In 2017, there were 382 cases of meningococcal meningitis reported nationally and 28 deaths.
Prior to this year, infants aged 12 months were only given a single-strain meningococcal C vaccine, but after the spike in other strains the Tasmanian Federal Government introduced a ACWY meningococcal vaccine at 12 months through the national immunisation program.
"I still can't believe the same health system that saved Arthur's life with advanced medical treatment could allow him to contract a vaccine-preventable disease in a first-world country," his dad Nathan told the Mercury.
Read the full story here