Gary Springer created an award at the National Meningitis Association and who has worked tirelessly to support both his son and the organization that seeks to help others.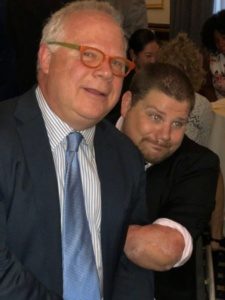 Nick, won a gold medal in the 2008 Paralympics in Beijing His mother Nancy died of liver cancer the day after he won the gold medal. Nick contacted Meningococcal Meningitis when he went to summer camp as a teen and all his limbs were amputated.
NMA was formed in 2002 by parents whose children died or live with permanent disabilities from meningococcal disease. NMA works to protect families by educating the public, medical professionals and others about the disease and vaccines available to prevent it.
Read the full story here