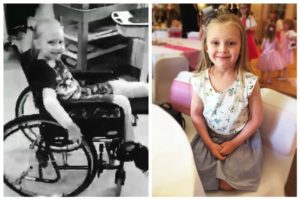 Brogan-Lei Partridge became critically ill just weeks after being a bridesmaid at the wedding of her parents.
She was diagnosed with meningococcal meningitis and septicemia and had to her left foot amputated. Her mother, Aimee, "The damage was done within just a few hours, but only time will tell how much the disease will affect her life."
Two years later, now nine years old, the inspirational little girl has been told that her right foot must be removed as well.
Read the full story here